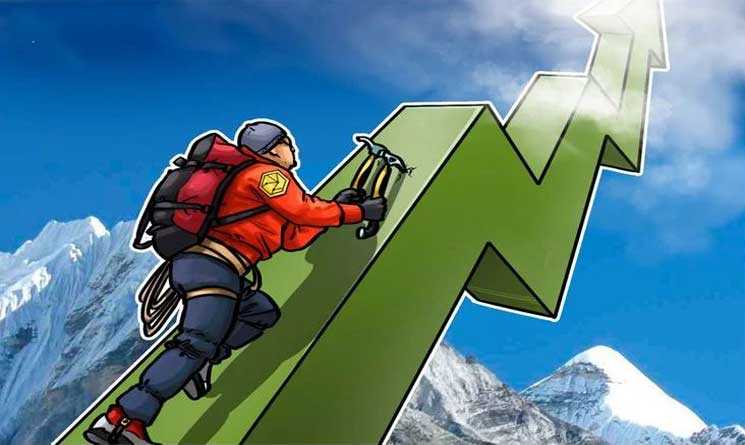 On Sun Dec 9, Crypto markets are showing a growth as Bitcoin (BTC) trades closer to $3,700 at the end of the First week of December as per the CoinMarketCap.
After a week of historical low trade this year, the major cryptocurrency is trading at around $3,650 by press time, up more than 7 percent over a 24 hour period. According to Cointelegraph's Bitcoin Price Index, the coin is still down almost 9 percent on the week and more than 44 percent on the month.
Ripple (XRP), the second-largest crypto by market cap, is also up by 5 percent on the day, currently trading at around $0.31 as of press time, as per Cointelegraph's Ripple Price Index. Ripple's weekly and monthly charts have losses of almost 12 and 41 percent respectively, which is similar to Bitcoin.
Ethereum (ETH), third-ranked crypto by market cap is up the most of the top-three cryptos. Currently, it is seeing almost 10 percent growth on the day and trading at around $97 by press time. The altcoin is down almost 14 percent on the week, and over the past month is seeing losses of more than 55 percent.
On CoinMarketCap All of the remaining top ten coins are seeing green, with EOS (EOS) up 15 percent and trading at around $111 to press time is showing the most gains on the day.
An exceptional case is Bitcoin Cash SV (BSV) which is a branch of Bitcoin Cash (BCH) hard fork. It is down more than 2 percent over a 24 hour period and trading at around $97.37 at press time. On Dec 8, BSV had been ranked the fifth yesterday but is now in the eighth spot on CoinMarketCap. BCH is up around 8 percent on the day and trading at about $111 by press time and now ranking fifth. The total market capitalization of all cryptocurrencies on Dec 9 was at around $115 billion as of press time compared to its Dec. 7 weekly low of just under $104 billion.
If you want to know more about crypto information click – best bitcoin mining hardware | best monero pool