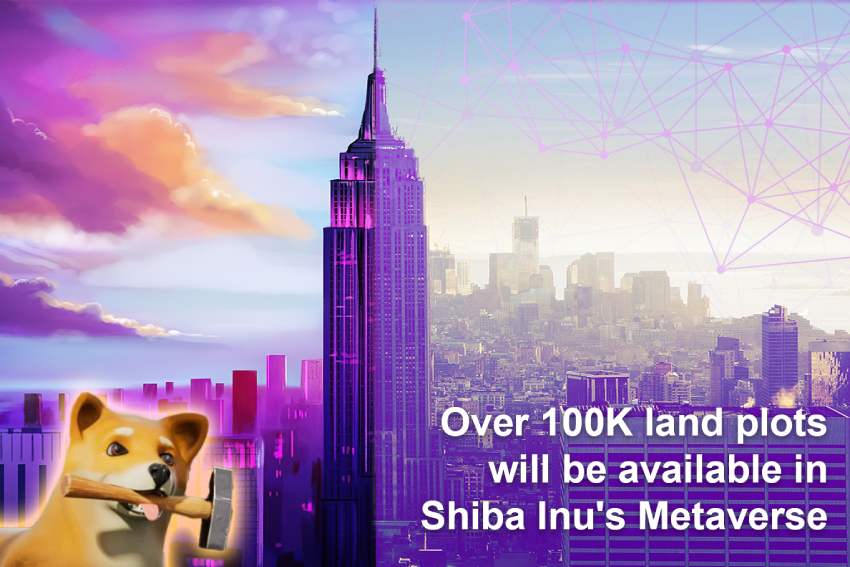 Shiba Inu, a popular meme coin, has decided to enter the metaverse after experiencing a multi-fold increase in the cryptocurrency business in a short time. Shiba Inu plots will be available in the market in the metaverse, according to the developers. Shiba Inu originally called its metaverse domain 'Shibverse,' but eventually changed the name to SHIB: The Metaverse. In early February, the developers unveiled the ambitious metaverse project to battle with other metaverse crypto coins such as "The Sandbox and Decentraland." And over 100,000 pieces of land will be available in SHIB's metaverse, some of which have been anticipated to stay private. As a land purchasing token, developers have chosen Ethereum's native cryptocurrency, ether.
There would be a bidding event to determine who owns the land parcels. To indulge in the three-day event, bidders will need to freeze their Doge Killer tokens. Participants will indeed be able to take part in the sale's seven-day stage. After the two early phases of bidding are completed, the rest of the land plots would be open for public sale. Shibarium, a layer-2 option for SHIB, is expected to be used to construct the metaverse
The creators of the famed meme virtual currency shiba inu (SHIB) have released the outlines of the virtual reality venture "SHIB: The Metaverse," which includes 100,595 land plots, most of which will remain confidential. Shiba inu is a two-layer solution for buying land, and land purchasers will be capable of creating passive income, according to the team. We'll be doing the same thing for them. When using and destroying the property, owners can designate their plot.
Plots of land will be issued in stages. The first level will grant access to 36,431 plots separated into 4 groups: Silver Fur, Gold Tail, Platinum Paw, and Diamond Teeth, with prices ranging from 0.2 to 1ether (ETH). To ensure that Shiba Inu native coins have no negative risk, the team has chosen to deploy a neutral cryptocurrency as only a land pricing token.
We would have to trash our own coin price redeeming them if we used our ecosystem tokens! Buyers of land will be able to earn passive income, acquire in-game materials, and earn awards, which the team promises to reveal soon.
The release stated, "We will be revealing the first particular role that $SHIB will perform in the metaverse." "By inviting a mechanic to independently burn $SHIB while naming your land plot, this should begin shortly after land events and the public sale have ended." Developers claimed that once further phases are released, the remaining of the SHIB network coins, such as LEASH and BONE, would play a role, with LEASH holders being able to acquire lands in subsequent stages. At press time, the SHIB token was constant, hovering around 0.00002274. In early March, developers indicated a metaverse foray.
Shiba Inu's team has indicated that acquiring the land will provide a possibility for passive income and incentives. Other benefits that owners will be capable of using in the future will be revealed. In the meantime, the number of subscribers on the cryptocurrency's twitter account has exceeded three million since the announcement. Not only did SHIB's prices rise as a result of this statement, but so did its followers'. We can only anticipate that this endeavor will entice more investors to enter the market and make Shiba Inu investments.