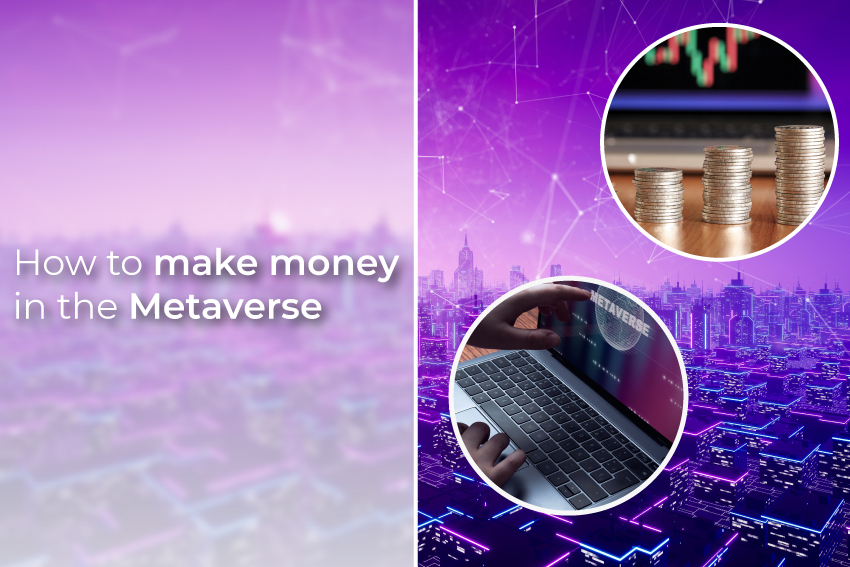 The metaverse is indeed a graphical application that enables its customers to game, connect, work, and shop, among many other things.
People can also witness 3D spaces over the Metaverse. It is a hybrid of the augmented world, virtual reality, as well as blockchain technology.
Users can take advantage of ultra-fast broadband connections, the online digital world, and virtual reality devices.
People can work in a metaverse virtual office after employment and relax in the blockchain-based game part, where they can also manage their crypto funds and portfolio.
Metaverse is the simplest combination of economy, decentralised governance, digital identification, and many other things.
Metaverse is a piece of digital graphical software. It provided its users with numerous job opportunities. There are numerous methods for people to profit from this metaverse application.
How to get money in the Metaverse?
It is no surprise that making money in the metaverse is conquering the globe. According to Bloomberg, the worldwide metaverse business might be worth 800 billion dollars by 2024. As more businesses and individuals migrate to this new virtual realm, there is an increasing need for products within the metaverse.
Best ways to make money in the Metaverse
Some of the best ways to make money in the Metaverse
Play-to-earn sports through the Metaverse would allow users to earn cryptocurrency rewards. Though there are not as many monetary benefits as there formerly were, metaverse experiences are predicted to become more widespread than conventional gaming approaches.
Clothing for avatars, known as "wearables," can be purchased and traded on the blockchain in the guise of a crypto asset known as a non-fungible token in Decentraland. NFTs gained popularity earlier this year as speculators and crypto aficionados hurried to purchase the new sort of asset, which reflects ownership of online-only objects such as digital art, trading cards, or even land.
Monetize Virtual Reality Games
End-to-end VR games might be designed and published in the same way as 3D accessories are. This does not necessitate considerable technical knowledge.
To generate profits from this source, people can combine fundamental narrative talents with VR design platforms such as Horizon Worlds. For instance, a VR version of Google's renowned dinosaur game may work equally well for user uptake and monetization.
Organize Metaverse Events
In the Metaverse, this is already a very common way to make money. Live performances featuring actual artists can draw large crowds, and organisers might charge users via bought tickets.
Warner Music has already created a virtual performance hall in collaboration with the metaverse platform which is The Sandbox. Snoop Dog's recently added Death Row Records is set to join the NFT label, and the performer has already acquired a significant piece of land on the Metaverse, which will provide additional cash streams.
Non-fungible tokens or NFTs are exploding. These digital collector's items are offered in groups of original items that can amount to the tens of thousands in each collection implying that graphic artists are in high demand.
Become a Real Estate Dealer
The most important players in the embryonic category of virtual real estate are primarily concentrated on two blockchain-based metaverses: The Sandbox as well as the Decentraland.
Each of these realms allows users to buy virtual parcels of land using NFTs, which are unique digital tokens. A property dealer of prime properties in the metaverse can mint a lot of money.
Designer and Architect of the Metaverse
The opportunity to construct a liberal utopia is undoubtedly one of the most enticing possibilities in the growing network of digital realms known as the metaverse. The rush of brands and businesses seeking a "metaverse presence" is spawning a cottage industry of designers and architects making 3D models of buildings.
Everyone is talking about the tremendous drive towards NFTs and digital art. It is not just a passing trend; leading art experts concur that this new digital arena for art will significantly alter and expand the business.
While physical galleries aren't going away, digital reality art museums provide individuals with increased accessibility, great digital experiences, and a unique method to appreciate the fine works of emerging artists. One of the most effective methods for making cash in the metaverse is to establish an art gallery.
Many travel agents and agencies have been created in the Metaverse. It is a source of revenue for many people. People who wish to explore the world without leaving their homes can do it through the metaverse.
During the outbreak, the virus invaded the entire planet, and people were unable to travel to various tourist destinations. As a result, people may virtually travel around the world and explore and enjoy different parts of the world.
Beginning a Venture in Metaverse
Metaverse is the greatest platform for launching a virtual business, such as online shops, virtual amusement theatres, playing game apps, and sports souvenirs. People can now make money virtually very easily.
There are various platforms accessible in the metaverse where individuals can earn money while seated at home with no effort.
Metaverse is a source of earning for many people who are afraid of displaying their talent in public, thus they can earn money without revealing their name on the metaverse. NFTs allow people to invest in the metaverse.
NFTs are digital currencies that are one-of-a-kind and cannot be exchanged. NFTs can be employed to represent almost anything in the metaverse, from digital land to art. You could make NFTs and distribute them for a profit if you are creative and have a sense of style. In Decentraland, for example, you may create and trade NFTs using the native MANA coin. Furthermore, having an NFT in this metaverse provides you with the ability to direct the course of Decentraland.
Conclusion
You may be wondering how to earn money with metaverse property investment if you are an interested investor but It is actually a lot easier than you think.
People have numerous chances in the Metaverse. Metaverse is a 3D virtual platform which has collaborated with a number of B2B firms.
Decentraland is a digital platform similar to the metaverse. Individuals can earn money and make income in a decentralised metaverse by seizing the right opportunity.
FAQs
Buying and owning land is indeed a viable approach, but the most important factor in determining the value of a metaverse platform and making money is the amount of time spent. Remember that the more individuals who are eager in a metaverse platform, the more likely it will have a valuable future. Because virtual real estate plots in these realms are frequently limited, the more the interest in a world, the greater the demand for that restricted real estate and the greater its value will rise eventually.
Real estate can be used to earn money in the metaverse in a variety of ways. Anything you do to increase public outreach on your digital platform can have many benefits. Many metaverse real estate owners construct structures for rent or rent out single parcels. Earning money in the metaverse is as easy as choosing the ideal property for the project, enabling your real estate investment to flourish, and expanding the community around you.