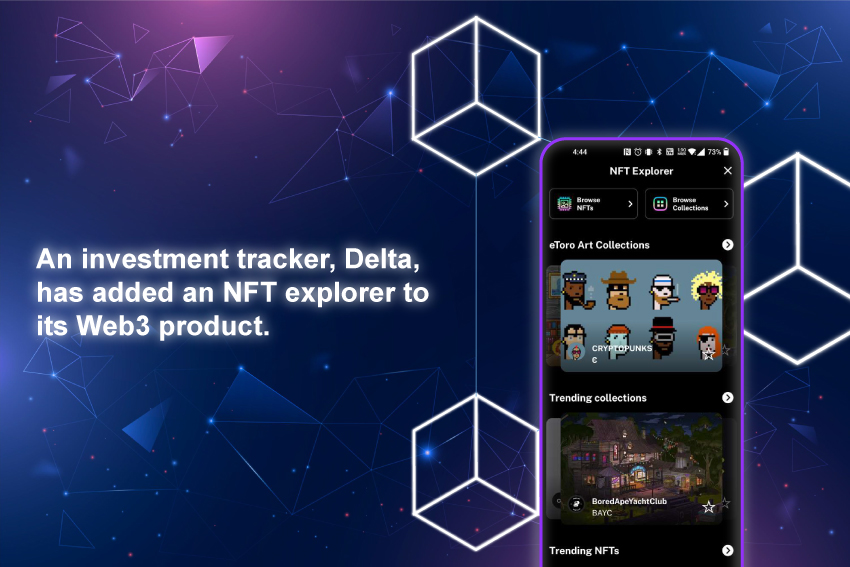 To begin with, the new NFT tracker and explorer services will only support Ethereum wallets, with multi-chain functionality promised by the closing of the year.
With its NFT explorer services, Delta, an investment tracker tool that helps users to keep track of their stock and crypto portfolios, is now entering the non-fungible token (NFT) sector.
Users may track their NFT collections alongside their stocks and shi with the newly unveiled NFT tracker. Delta users will be capable of connecting their Web3 wallet to their native fund tracking account with the new release.
The NFT tracker services will begin with Ethereum wallets alone, but the company has stated that multi-chain wallet compatibility would be available by the end of 2022.
The NFT tracker and explorer services would allow users to not only track their own NFT collection, but also to explore the world's 18 million NFT collections.
The mission is to make users' lives easier by giving them a complete picture of their investments. We are improving on adding more asset types to the app and will update you as soon as we have more information and the possibilities afforded by Web3 have certainly piqued our interest.
Delta has joined the expanding list of mainstream traditional corporations getting involved with NFTs, but unlike many others who have chosen to either start an NFT
marketplace or an NFT collection, the company has discovered a way to stay true to its niche. While the concept of NFTs dates back to 2012, it wasn't until the 2021 bull market that they became popular and widespread. The growth of the NFT sector has resulted in the creation of a separate ecosystem worth billions of dollars.
Due to the fact that Delta does not allow users to trade on their exchange accounts via the Delta app. Users can only link their exchange accounts to keep track of their recent trades and current crypto holdings.
This provides Delta users with an extraordinary level of security, as they don't have to worry about safeguarding an account that has access to a variety of crypto exchange accounts. Of course, this has the drawback of preventing you from trading crypto assets straight from the Delta app, which adds to the overall complexity of managing your crypto investments.
Hence, even with all of this in mind, Delta users should exercise caution when adding an exchange API key to their account. This is due to the fact that different exchange account interfaces can create different sorts of API keys.
The rising popularity of NFTs and Web3 goods has inspired a number of well-known firms to enter the decentralized market. Facebook underwent a thorough rebranding and called itself Meta to reflect its concentration on the Metaverse, while investment firm JP Morgan launched an office in the Web3 virtual reality.
Mark Zuckerberg also confirmed that NFT functionality will be added to Instagram in the near future.