A wallet is very necessary for the trade of crypto currency. You cannot buy or sell the crypto if you do not have a crypto wallet. There are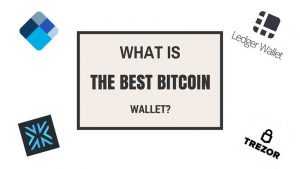 different options of wallets to keep crypto currency. The options vary from a hardware wallet, software wallet, and paper wallet to mobile applications and web wallets.
The best option to store Bitcoin is the hardware wallet. There are different hardware wallets in the market. The best among the options of hardware wallets is the Ledger Nano S. A hardware wallet is considered a safer option because you can store your currency in the USB-like wallet and keep it offline. It has the configuration to store almost all the crypto currency including the Bitcoin.
However, while other software and web wallets may give you free of cost services, the Ledger Nano S comes with a cost. What is the best bitcoin wallet but once you pay for it you will notice that it is worth paying for because it has the option to keep a variety of crypto currencies.
Where to get a Bitcoin wallet:
As there are a number of options of wallets for Bitcoin, you can purchase them or download them, or register on a website to make use of the wallet. To keep the crypto currency, where to get the wallet depends on the nature of the wallet.
The hardware wallet can be purchased from a market. It is I the form of USB and can be carried anywhere along with you. The Bitcoin wallet service are the physical devices which are designed to secure crypto currency
The software wallets can be downloaded from the internet to the desktop or the mobile devices. These wallets are also considered secure because you can keep your Bitcoin offline on the desktop or the mobile devices.
The online wallets or the web wallets are the websites which gives you the services to store your crypto currency safe. These wallets can be accessed online by registering to the websites and signing in by entering the private key provided to you.
Conclusion:
To choose a wallet, it is very necessary to consider some factors such as frequency of payment or the flexibility of access or the amount to transfer. In most cases, a hardware wallet is the best option while the mobile applications are also a good option if you are a frequent traveler.