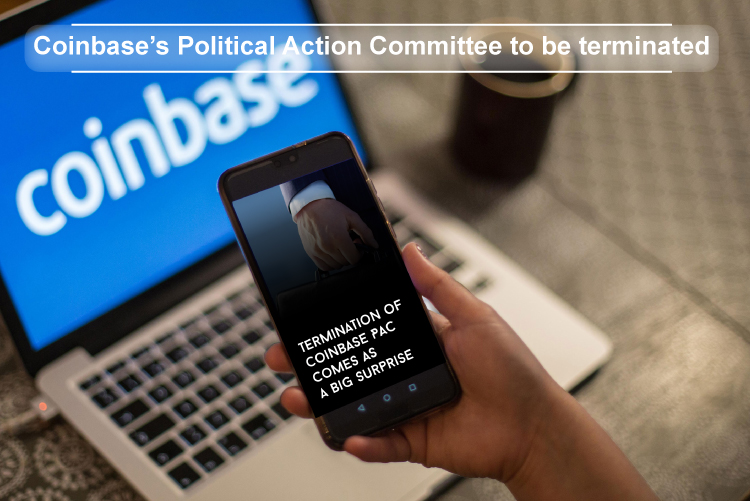 Coinbase has filed for closing its Political Action Committee also called as PAC. The cryptocurrency which is based in the United States filed for the close on April 3, as reported by the crypto news website Cointelegraph.
As per the Federal Election commission (FEC) filing, Coinbase's PAC was known to be the regulatory agency which was reportedly in charge of enforcing election laws. As per the filing, the regulatory body PAC didn't receive any funds or any kind of disbursements, which is the main reason behind the decision of seeking termination of PAC.
Now PAC has to file a report, as per the FEC regulations, as to termination and ceasing their operations as well as also reporting not to receive any kind of contribution and expenditures for the same.
PAC was often represented as an independent organization in the U.S. which would represent varied businesses, labour or policy interests which would collect donation money for the political campaigns against or for candidates, ballot initiatives or legislation.
PAC has become a subject of controversy after the 20110 Supreme court case of Citizens United vs the FEC, where PAC had faced a lot of criticism where it was said to be a way for union donors or corporate donors to put their way up the electoral scale. Hence, PAC was forbidden to make any coordination directly with the campaigns they supported, but usually, it was observed that coordination did occur.
On July 2018, Coinbase had formed its PAC, where it became the founding member of the Blockchain Association in September. The interests of the blockchain industry were exclusively represented by the first lobby group in Washington DC, Blockchain Association.
Coinbase has recently launched its own ATM card. The move of termination of PAC comes as a big surprise.