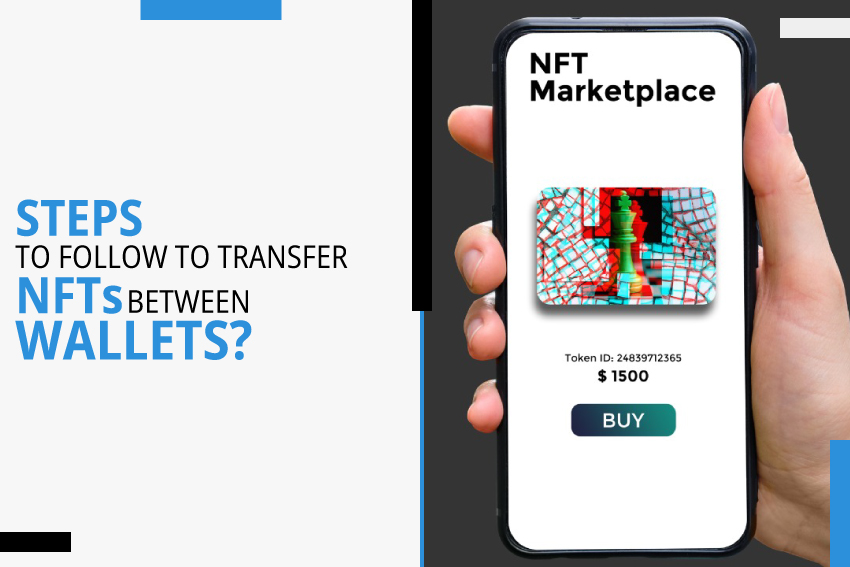 Whether you are an NFT admirer or collector, it is critical to understand how to move an NFT to some other crypto currency wallet.
After successfully performing a couple of my NFT transfers, I became aware of how easy it was for anyone to follow the steps to move a non-fungible token to any other wallet of their choice.
Steps to follow for transferring NFTs between wallets:
Select your desired NFT
Click Send after logging into your account Metamask or OpenSea.
The recipient's public wallet address should be entered or ENS, where applicable.
Transfer the transaction charge.
Following that, you may check the transfer on Etherscan.io.
a. Select your desired NFT
If you are using Metamask, all you need to do is launch your app for mobile or extension for desktop and select the account that holds the NFT you want to transmit. Simply choose the required NFT and click the Send button. If you are transferring your NFT from OpenSea, navigate to the NFT that needs to be sent and click Transfer.
b. Enter the ENS or wallet address of the recipient.
The recipient's public wallet address or Ethereum Name Service, which is the crypto currency equivalent of the Domain Name System, used on Web 2.0, must be entered after choosing the NFT you wish to transfer.
c. Transfer the transaction charge.
After making sure the recipient's address is accurate, you must pay the transaction charge. An NFT transfer can cost anything between 50 and $15.00. Although selecting the transaction button will save you money.
The Fast option increases your transaction time dramatically for only a small additional cost. The transaction might not complete right away, based on the transaction you select. Don't be alarmed if you don't get a message of completion right away; transfers sometimes take a while to complete.
d. Check your transfer.
Check your transaction and confirm that your NFT has been transferred. A list of your activities may be found here. Choose the transaction you want to confirm, and then click View on Etherscan. By doing so, you will be taken straight to The Ethereum Blockchain Viewer where you can check all of your payment details, including the status of your transaction at the moment.
It is a good idea to confirm if your transfer was sent successfully on a regular basis. Etherscan also makes it easy for you to examine any extra information about your transfer, such as the time, fees, recipient address, or value.
Metamask.
Best NFT Wallets for 2022
Some of the wallets that are best for NFTs investment in 2022 are as follows:
Of the most prominent Bitcoin wallets is Metamask. With just a few clicks, its browser plugin offers quick access to web3 websites like NFT marketplaces.
Additionally, Metamask makes it simple to create several addresses, allowing you to keep your NFTs at a different address from your Bitcoin or form a single account for every NFT you buy.
In 2020, ConsenSys, the organisation that created Metamask, created a mobile application.
Decentralized applications, or dApps, and NFT exchanges can both be accessed through the mobile application's built-in browser.
Strong competition for Metamask is provided by Math Wallet. The fact that it enables over 70 blockchains is its key distinction.
It supports connections with numerous hardware wallets and provides web, desktop, and digital money that syncs between devices. Additionally, Math Wallet enables you to create several addresses.
Users of Math Wallet can view NFT marketplaces using the built-in dApp browser. OAlphaWallet
An open-source crypto currency wallet is AlphaWallet. Beginners can learn it with ease because of the straightforward user interface. The wallet has a complete area devoted to NFTs and gaming tokens. Additionally, it enables users to the addition of Meta tags to their tokens, allowing them to browse their collection and search and filter tokens with ease. OpenSea, CryptoKitties, Dragonereum, and Chainz Arena are just a few of the NFT markets and blockchain games that AlphaWallet natively supports.
Binance is the owner of the well-known mobile-only wallet Trust Wallet. It supports a variety of blockchains, including Ethereum, but because of its connection to Binance, it has a strong bias in favour of smart chain tokens. Trust Wallet might be your best choice if you are concerned about investment in NFTs on the Binance smart chain since it is already configured for BEP tokens. Similar to certain other wallets, it has a dApp browser to locate NFT marketplaces, making it simple to purchase NFTs directly from the wallet.
For its cryptocurrency exchange, Coinbase is very prominent. Additionally, it provides a non-custodial wallet that can be used to store NFTs and other tokens.
Keeping assets in the Coinbase Wallet, as opposed to holding cryptocurrencies on Coinbase's exchange, provides the users complete control over their digital money.
In 2021, Coinbase made it simpler for customers to use their wallets between devices to buy NFTs using other dApps by releasing a browser extension.
Through the mobile wallet's built-in browser, users may easily access dApps.
How to choose the best NFT Wallets?
When selecting an NFT wallet, the following characteristics are crucial to consider:
Compatibility: Compatibility with the NFT platforms you want to use for online purchases. It's a non-starter if it's not supported because you won't be able to purchase the NFTs you want.
Robust Security: NFTs can be valued at tens of thousands of dollars or perhaps millions. You want something that is as safe as it can be.
User Interface. Purchasing and selling NFTs will be simple with a pleasant user experience.
Cross-device Use: Usage across devices It can be useful to have access to your NFTs from both a computer and a mobile device.
Multichain Support: Several other platforms also enable NFTs, albeit the Ethereum blockchain hosts the majority of them.
Significance of utilising an NFT wallet
Unlike a physical wallet, an NFT wallet functions differently. In reality, you don't keep cryptocurrencies or NFTs in your wallet.
Everything at that address is effectively yours if you have the secret key. In addition to offering a good user experience for purchasing and transferring NFTs or bitcoin, a wallet will handle all the technical details for you.
Moreover, it offers an easy way to monitor your assets across platforms and can boost security by requiring two factors for authentication.
How to send Bitcoin from Coinbase to MetaMask?
Coinbase serves as a convenient entry point into cryptocurrencies for many people as among the most prominent and established exchanges.
The effective cryptocurrency wallet MetaMask enables users to store coins in a safe environment.
This is one of the easiest hot wallets to set up, suitable for users who exchange cryptocurrencies frequently, and gives them the ability to manage their own keys, something exchanges do not allow.
You should adhere to these procedures to transfer money from Coinbase to MetaMask.
Open your Coinbase account and log in.
Login into the MetaMask account and select "purchase and send" by clicking on the three dots.
Make careful you transfer your cryptocurrency to the correct address since each cryptocurrency has a unique address. Consider this as an example: Be sure to transmit Ethereum to an Ethereum address and Bitcoin to a Bitcoin address.
On the clipboard, enter the MetaMask wallet address.
Copy and paste the address into the Coinbase wallet address area
Enter the desired quantity of cryptocurrency to send. It is suggested to send a small amount to test out the feature initially.
When finished, press the Submit button to complete the transaction.
Moreover, the fee fluctuates depending on a number of variables, including the payment method chosen, the amount of the purchase or market circumstances like volatility and liquidity. It is often calculated using estimations of the network fees.
Is it possible to Transfer NFT from Wax to OpenSea?
This may be completed quickly and easily right out from WAX Cloud Wallet. Activate the WAX Cloud Wallet and go to the NFTs tab to transfer one NFT. Select the NFT you want to transmit by clicking it under the NFTs tab. The NFT page will open as a result. Transferring it instantly from the Profile page is the first option. Go to the NFT you want to transfer. Select Transfer by clicking the three-dot menu in the item card's lower left corner. Verify your decision and click Transfer.
Conclusion
It is fantastic that there is indeed a mechanism to gather NFTs inside the crypto community because they are interesting assets. That is so, for someone who has not spent much time in this field, the process may seem complicated and perplexing.
However, after running through the procedure a few times, managing your NFTs, connecting your wallets, sending tokens, and transferring assets between them will become a lot simpler.
Faq
Select on import using Secret Recovery Phrase after opening your MetaMask. Type your recovery phrase, then create and verify a password: The Coinbase wallet is successfully imported into your MetaMask wallet by entering the recover phrase and selecting the preferred password.