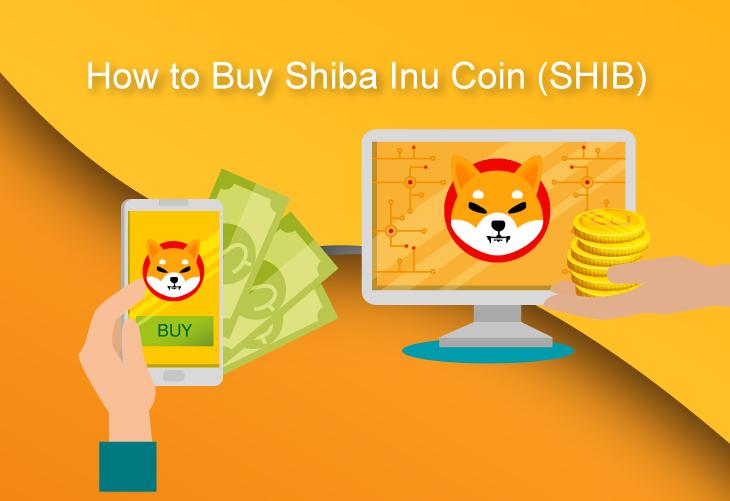 Shiba Inu Coin can be purchased on both centralised as well as de-centralised exchanges. In this article, we will acquaint you with detailed information about Shiba Inu Coin, centralised and de-centralised exchanges, its process, sale on different platforms and its potential.
What is Shiba Inu Coin?
The Shiba Inu Ecosystem has created Shiba Inu Coin, a decentralised cryptocurrency that promotes community interaction.
Like many other coins, they constructed it on the base of the Ethereum Blockchain Network. It is indeed a meme coin that was introduced as Dogecoin's competition or Doge-Killer.
Where to buy Shiba Inu Coin?
Shiba Inu may be purchased on a number of websites, like Binance, Crypto.com, Atomic Wallet, and KuCoin. Additionally, you can purchase SHIB on Uniswap through Trust Wallet by exchanging Ethereum for SHIB. It can be bought on both centralized and decentralized cryptocurrency exchanges.
A. Centralized Exchanges
B. Decentralized Exchanges
What is a Centralised Currency?
Online platforms are called centralised cryptocurrency exchanges to allow users to purchase and trade cryptocurrencies. Investors most frequently utilise them to buy and sell cryptocurrency assets. Since digital currencies are frequently described as being "decentralised," some buyers may find the idea of a "centralised" exchange to be somewhat confusing.
Cryptocurrencies like SHIB are easily accessible on the majority of top centralised cryptocurrency exchanges as a result of the general acceptance of meme coins. These consist of Pro Coinbase, Binance, Huobi Global, Gemini, FTX, and KuCoin.
Pro Coinbase: Coinbase offers a clean, simple way to buy and sell cryptocurrency with only a few options for placing orders. Coinbase Pro, on the other hand, gives users advanced charting and trading options, giving superior control to advanced traders.
Binance: People can trade cryptocurrencies on Binance, an online exchange. The majority of widely used cryptocurrencies are supported. For investors to store their digital currency, Binance offers a crypto wallet. Users can earn interest or conduct transactions using cryptocurrency thanks to the exchange's support services. In comparison to several other U.S. exchanges, such as eToro which costs roughly 0.75 per cent for Bitcoin transactions and Coinbase which charges 0.5 per cent for trading fees plus a flat price of up to $2.99 per trade, Binance charges a flat 0.1 per cent spot trading fee.
FTX: FTX was established in 2019 and is a trustworthy cryptocurrency exchange.
Huobi Global: A provider of exchange, trade, wallets, and storage services for blockchain assets on a worldwide scale is Huobi Global. it was founded in 2013.
Gemini: Gemini is an accessible cryptocurrency exchange that may be an excellent option for both new and seasoned traders. Gemini is a platform to take into account if you are interested in trading or investing in cryptocurrencies because it has market-leading security measures, its own smart wallet, and an extensive help centre. With over 13.6M members, Gemini has a larger active user base when compared to Coinbase. Coinbase has about 13.3 million active users. If we study the cryptocurrencies that are approved by both exchanges, we can observe that Coinbase has a bigger number of acceptable coins than Gemini.
How to buy Shiba Inu Coin on Centralised Exchanges?
Create an official account or login in with an existing one. If you haven't previously, finish the know-your-customer procedure before you can purchase bitcoins. Usually, it takes a couple of minutes to finish this process. This may be discovered on Binance by clicking "Identification" after clicking over the account symbol in the top right corner.
Go to the page where you can purchase USDT, USDC, or DOGE cryptocurrencies using a credit or debit card, a bank transfer, another cryptocurrency, or an exchange-provided option. You can also skip this step if there is a straight fiat currency pair available.
Add the sum you intend to spend on the item.
Choose your preferred mode of payment.
Any warning buttons or boxes should be checked, then click confirm. Complete the payment, and the purchased amount should be available in your wallet in a few minutes, regarding the payment method & exchange rules.
What is De-Centralised Exchange?
DEXs, or decentralised exchanges, are peer-to-peer markets where cryptocurrency traders can conduct transactions without entrusting the management of their funds to a mediator or any custodian.
Smart contracts, which are self-executing contracts written in computer code, are used to expedite these transactions.
Decentralized exchanges charge a trading cost in addition to a transaction fee since they are created on the basis of blockchain systems that connect smart contracts and let users retain custody of their money. In essence, using DEXs involves traders interacting with payment systems on the blockchain. Decentralized exchanges can be divided into three categories: automated market makers, order books DEXs, and DEX aggregators. Through their smart contracts, all of them enable direct trading between users. Similar to centralised exchanges, the first decentralised exchanges also made use of order books. Prominent de-centralised exchanges include shibaswap, uniswap, trust wallet and coinbase.
Shibaswap: The Shiba Inu currency project's native decentralised exchange (DEX), a well-known meme coin and dogecoin's main rival, is called ShibaSwap.
Uniswap: Peer-to-peer market creation is made possible via the decentralised exchange Uniswap. The symbol for the cryptocurrency Uniswap is UNI.
Trust wallet: The greatest and safest decentralised cryptocurrency storage is Trust Wallet. Nearly all the crypto assets are supported by Trust Wallet, and it also encourages staking several well-known coins like BNB, TRX, and others. We can conduct swaps, apply for ICOs, and participate in IDOs using a variety of apps that works with smart contracts.
How to buy on a decentralised exchange
In order to invest in the decentralised currency, you do not require registration because you can engage with these platforms without even providing your email address. Instead, traders will require a wallet that is compatible with the network's smart contracts.
The financial services provided by DEXs are accessible to everyone with a phone and a good internet connection. A user must first choose which network they wish to utilise before using DEXs because there is a transaction charge associated with every trade.
The following step entails selecting a wallet that works with the chosen network and funding it with that wallet's native coin. In a particular network, transaction costs are paid with a native token.
After selecting a wallet, it must be financed with the tokens required to cover the network's transaction costs.
These tokens, which must be purchased on controlled exchanges, are easily recognised by their ticker sign, such as ETH for Ethereum. Users just need to withdraw their tokens into their own wallets after purchasing them.
How to buy Shiba Inu Coin on Shibaswap?
The native virtual currency of the Ethereum blockchain that is ether, must be added to your Metamask wallet along with a password. The simplest way to achieve this is to use Metamask's "purchase" button. This will direct you to a site with a number of alternatives where you can use your debit card to buy ether.
Once you have finished, you are prepared to use ShibaSwap to exchange your Ethereum (ETH) for Shiba Inu Coin (SHIB).
As seen below, you must choose "ETH" in the main box and then look up "Shiba Inu coin" and choose it in the second box.
SHIB tokens will now be available in the Metamask wallet.
How to buy Shiba Inu Coin on Uniswap?
Steps to buying Shiba Inu coins on Trust Wallet:
Step 1: So purchasing some Ether would be the first step.
Step 2: Put that money in your ETH wallet. construct a Metamask wallet. Your 12-word mnemonic should be written down and stored safely.
Step 3: The ETH wallet address can be found by finding your PUBLIC KEY.
Step 4: Send your ETH from the central exchange to your ETH wallet as a result.
Step 5: Verify that you are trading ETH for Shiba Inus at Uniswap. By entering the real contract address in the "To" field, you can ensure that you are utilising the correct tokens. But when sending on Metamask, use the quickest option if you really want the best possible chance of the payment getting through.
What is a Trust Wallet?
The best and quickest way to buy the Shiba Inu Coin crypto is through the Trust wallet. The Trust Wallet is a decentralized wallet, that has access to Decentralized Applications – or DApps for short. Its main goal is to make crypto more accessible with an intuitive and easy to understand user interface.
The encrypted and stored Crypto are located at these addresses. Trust Wallet merely provides access to cryptocurrency; it neither holds nor controls any of it.
Process of buying Shiba Inu Coin on Trust Wallet?
Steps to buying Shiba Inu coins on Trust Wallet:
Step 1: Download and install the Trust Wallet application on your device.
Step 2: Select "Create A New Wallet," accept their terms & policies and hit "continue."
Step 3: Save the 12-word recovery phrase in order with you somewhere, and then tap on "Next." Enter the recovery phrase you just saved, and the wallet will be successfully created.
Step 4: Enable DApps on your Trust Wallet. The steps are Settings → preferences → DApp Browser → Enable.
Step 5: To make the process simple, hit the options icon present in the top right corner of the home screen. Enable only Ethereum and Shiba Inu coins and disable all other cryptos. Now the home screen will have only these two on the screen for your convenience.
Step 6: Select Ethereum and either buy ETH by clicking on "Buy Ethereum." Or, transfer ETH if you have it in your other wallet by clicking on receive.
Step 7: Now click on the DApp Browser icon present at the bottom. Find and select Uniswap Exchange.
Step 8: Select swap from the tabs present at the top.
Step 9: Select ETH from the first search bar as the crypto you wish to exchange for SHIB.
Step 10: Select SHIB in the second search bar as the token you wish to swap for.
Step 11: Enter the amount. Either enter the amount of ETH you wish to spend or the amount on SHIB you wish to buy. You just have to enter the amount before either of the cryptos you have chosen. You'll also see the dollar value of the amount you have entered in both the crypto subscripts.
Step 12: Hit confirm to make the transaction final.
Once the transaction is successfully carried out, your purchased Shiba Inu coins will be reflected in your wallet.
Conclusion
Shiba Inu is a meme coin, meaning its value is determined more by the enthusiasm of other investors than by any underlying principles. It is quite challenging to forecast that kind of aggressive return pattern accurately.
FAQ:
To copy the coin's address, touch on the two squares to its right. Replicate the address into the search bar on the Trust Wallet app. Now, the coin ought to appear in your wallet. To add the coin, simply move the button to the "On" position. Share your screenshots if possible with the trust wallet team.