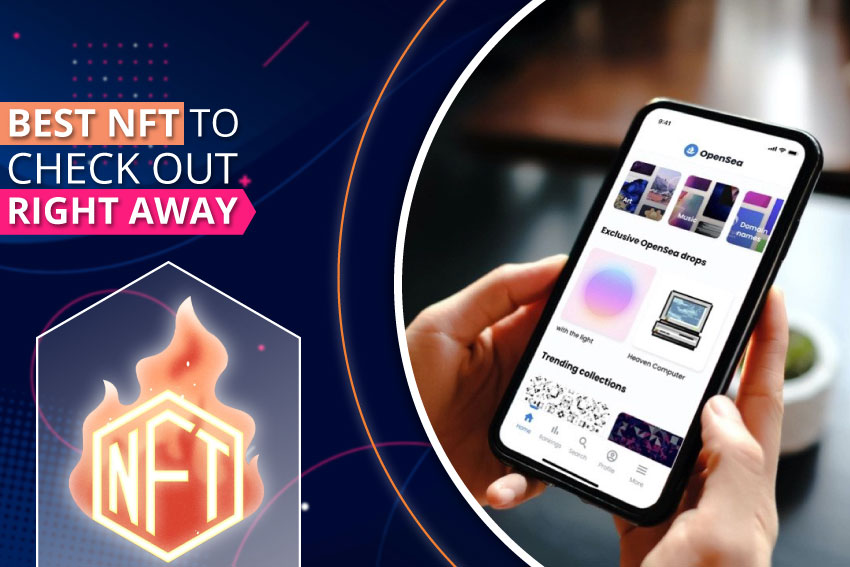 We all totally comprehend that NFT stands for Non-Fungible Tokens. Buy Leading NFT Crypto quickly to take advantage of the maximum rewards through savvy investing in the world's leading NFTs crypto currency coins.
NFTs were first developed back in 2014 when the rise of crypto currencies made it feasible to buy digital assets. The unique nature of each NFT makes them distinguishable from other crypto currency investment opportunities.
Let us give you some tips to let you decide which new NFTs to buy before we discuss the best tools for tracking trending NFTs. You must do a thorough analysis if you intend to make money with NFT investment. Many of the crucial factors to take into account include:
Only popular NFT Tokens should be avoided.
Characteristics of the NFT to understand how rare it is and how it is produced.
Identify the existence of the NFT designer's community. If so, locate the community and its followers.
Check out the NFT's original value.
Determine the total number of NFT units that are for sale.
Analyse to learn which platforms NFT is supported by.
Leading NFTs to Invest
The best eleven NFT stocks to research right now are detailed in the following paragraphs. To purchase them, we advise you to exclusively invest in the leading NFT crypto currency coins. For the long-term sustainability of what an NFT is about, making sure you have something worthwhile is a better decision.
1- Silks:
It is a play-to-earn metaverse, meaning collectors can earn rewards by playing the game, which is based on the thoroughbred horse racing industry and features NFTs of thoroughbred racehorses in abundance. Dan Nissanoff, Troy Levy, Benjamin (Binny) Plotkin, and Michael Lira, who all have extensive backgrounds in business development, project management, and entrepreneurship, are the initiative's founders. Real-world thoroughbreds have been modelled for the horses in the NFTs.
2- Doodles:
The ten thousand different NFTs in the Doodles NFT collection, which was started by Evan Keast, Jordan Castro, and Scott Martin, have dozens of different features. Every NFT in the collection is a cartoonish skeleton, animal, extra-terrestrial, humanoid, or spacecraft doodle drawn in a variety of vibrant colours. Customers with Doodles NFTs get first dibs on goods and activities. Owners of The Doodles cast votes on important features, goods, and events under a decentralised governance structure.
3- Moonbirds:
It was developed by the company Moonbirds Proof Collective, which Kevin Rose and Justin Mezzell also co-founded. The series was created with compassion and efficiency in mind. Each Moonbirds opens a fresh set of occasions, get-togethers, and initiatives. The nearly 10,000 NFTs in this collection feature cartoon owls with recognisable traits. Even robotic owls and skeletons are depicted in several of the artworks in the collection.
4- Women Rise:
Maliha Abidi, a well-known Pakistani-American artist and published novelist, founded the Women's Rise project. The project's objective is to broaden inclusion and diversity within the NFT industry. Women Rise contains 10,000 unique, computer-generated works of digital art which all feature women in order to accomplish this goal. Women from a variety of professions, including activists, scientists, programmers, and others, are working on the project.
5- VeeFriends:
VeeFriends: Additionally, he enjoys invention, which he brings to the metaverse via NFTs. VeeFriends aficionados own more than just digital memorabilia. The NFTs act as three years' worth of VeeCon tickets as well as credentials for the VeeFriends network. Abstract drawings of creatures including birds, cheetahs, bats, fish, and occasionally even ladybugs are included in the collection, each with a special touch and a vivid background.
6- Flyfish Club:
The Flyfish Club is an original NFT project created by David Rodolitz. With owners acquiring memberships through NFTs, the project represents a private dining club for the first time in history. Typically located in New York, the cafe at the centre of the Flyfish Club features seafood culinary marvels from renowned chefs. There is also a sizable raw bar with flavours from throughout the world. Fish and sushi-themed digital art are included in the collection.
7- Fan Controlled Football:
Sohrab Farudi, Patrick Dees, and Grant Cohen founded Fan Controlled Football. Former professional football player Ray Austin also serves as the organization's commissioner. According to its creators, Fan Controlled Football got influenced by actual arena football games. Ballerz, the project's NFTs, give users the ability to manage actual football clubs. Ballerz comes in all different sizes and shapes, from bored monkeys to Kingpins.
8- NFT Worlds:
The concept of NFT Worlds is NFT gameplay and metaverse where owners have verifiable digital land rights. Owners incorporate Minecraft-like features and capabilities to construct their own metaverse. The worlds open with pixelated scenes of hills, water, and forests.
9- Axie Infinity:
The concept is a metaverse game centred on the vibrant Axie who engages in conflict, builds, and seeks after prosperity. Additionally, collectors can create new NFTs by breeding their Axis.
10- Ape Yacht Club Is Boring:
Yuga Labs, a pioneer in the NFT industry, created it. Numerous A-listers have shown interest in the initiative, and several of the NFTs have even been signed by big record labels as metaverse megabands. The NFTs in the series act as entrance codes to an exclusive club with a growing list of benefits.
11-Moon Boys:
Moon Boys 11,111 unique, randomly created 3D NFTs of space characters are included in the collection. Owners of Moon Boyz NFTs have sharp accessibility to a diverse online community and physical events. The project is expected to lead in a number of metaverse domains, according to its creators.
List of NFT Tokens
ApeCoin (APE) (APE)
Decentraland (MANA) (MANA)
Theta Network (THETA)
The Sandbox (SAND)
Tezos (XTZ)
Each NFT project is distinct, and its value will fluctuate over time. Some of the best NFT initiatives to invest in immediately have been recognised by us. Investors should exercise caution, though, when making any investment.
Conclusion
If an NFT seems to be overpriced, it is probably because it is a rare work of digital art that is in high demand. The achievement or failure of NFT programmes is influenced by a number of variables. Large communities and high transaction volumes are characteristics of the most effective projects. Examining the project's workforce to check if they have sufficient industry knowledge is a fantastic approach as well. According to the expert's opinion, there is numerous demand and supply factors that will affect how much NFT are worth. While some NFTs are somewhat expensive, others are considerably more affordable.
Faq
Most NFTs are components of the Ethereum block chain at a high level, while other block chains have developed their own form of NFTs. Ethereum, like bitcoin or dogecoin, is a crypto currency, but its blockchain also takes account of who owns and trades NFTs.