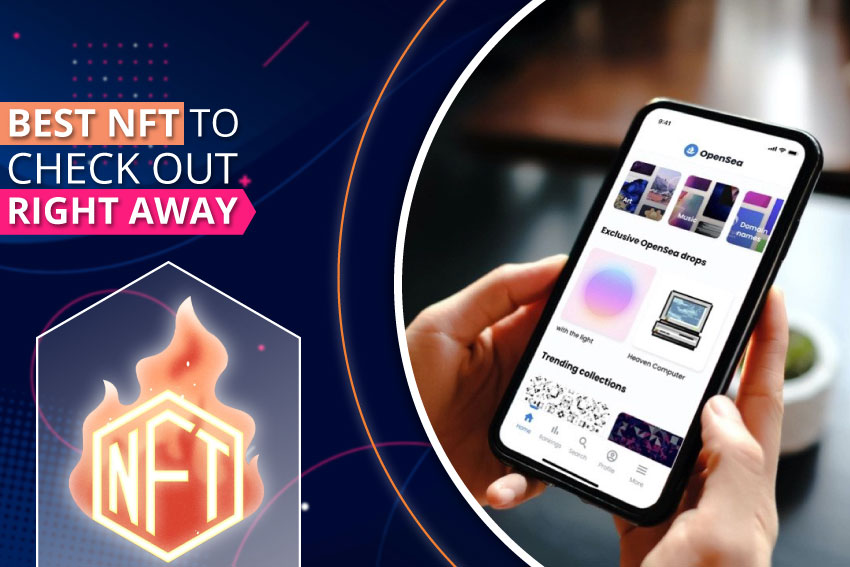 We all know that NFT is abbreviated as Non-Fungible Tokens. These digital assets could be nearly anything right from
Art, whether digital or tangible to
Music
Property investment
Tweets
Avatars in video games
Videos
Buy Top NFT Crypto and invest in NFTs instantly to avail the maximum benefits through wise investment in the top best NFTs cryptocurrency coins.
NFTs were originally established way back in 2014 when the trend toward cryptocurrencies made it possible to invest in digital assets.
They are becoming a more popular investment option in present times of digital investment.
The fact that every NFT is a one-of-a-kind object distinguishes them from other cryptocurrency investment options.
Finding the Best NFTs Crypto?
Before we go into the finest tools for monitoring trending NFTs, let us go over some pointers to help you determine on new NFTs to buy. If you want to profit from NFT investments, you must conduct an extensive study. Many of the important aspects to consider are:
Look out for popular NFT Tokens only.
Features of the NFT to comprehend its rarity and generation process
Determine whether or not the NFT designer has a community. If yes, determine the community's location and following.
Examine the current pricing of that NFT.
Determine how many overall units of the NFT are available on the market.
Analyse to know the platforms that NFT is available on.
Best 11 NFTs to Invest in Right Away?
Here is an in-depth review of each of the top eleven NFT stocks to look into right now. We suggest you invest only in the best NFT crypto coins to buy them. Making sure you have something useful is a wiser choice for the long-term viability of what an NFT is about.
1- Silks:
It is a play-to-earn metaverse, which means collectors can gain rewards by playing the game, which is modelled after the thoroughbred horse-racing industry, replete with NFTs of thoroughbred racehorses. The project's creators are Dan Nissanoff, Troy Levy, Benjamin (Binny) Plotkin, and Michael Lira, all of whom have substantial experience as entrepreneurs, developers, and project managers. The NFTs feature horses based on real-life thoroughbreds. When a horse wins a race in the actual world, the person who owns the horse's NFT in the Silks metaverse receives a reward.
2- Doodles:
The Doodles NFT collection was founded by Evan Keast, Jordan Castro, and Scott Martin and includes 10,000 unique NFTs with dozens of various attributes. Each NFT in the series is a brightly coloured doodle of a cartoon skeleton, animal, alien, humanoid figure, or spacecraft. Customers who own Doodles NFTs have first access to products and events. The Doodles, is also governed decentralised system which means that owners vote on major features, products, and events.
3- Moonbirds:
It was created by Moonbirds Proof Collective, a firm co-founded by Kevin Rose & Justin Mezzell. The series was designed with usefulness and compassion in mind. Each Moonbird unlocks unique events, gatherings, and new projects. This collection of over 10,000 NFTs shows cartoon owls with distinct characteristics. Some of the sculptures in the collection even include skeletons and robotic owls.
4- Women Rise:
The Women Rise project was established by Maliha Abidi, a well-known Pakistani-American artist & published author. The project's goal is to increase diversity and inclusion in the NFT business. In order to achieve this goal, Women Rise includes 10,000 distinct, computer-generated works of digital art that all show women. Women working on the project include activists, scientists, coders, and other professionals of many nationalities and backgrounds.
5- VeeFriends:
The VeeFriends project was created by Gary Vaynerchuk, an aspiring member of the corporate world. He also has a penchant for innovation, which he takes to the metaverse through NFTs. VeeFriends collectors possess more than simply crypto-collectables. The NFTs serve as credentials to the VeeFriends community as well as three years' worth of VeeCon tickets. The collection includes abstract illustrations of animals such as birds, cheetahs, bats, fish, and sometimes even ladybugs, each with a unique touch and colourful background.
6- Flyfish Club:
David Rodolitz's Flyfish Club is a one-of-a-kind NFT endeavour. The project is the world's first to symbolise a private dining club, with owners purchasing memberships through NFTs. The restaurant at the heart of the Flyfish Club is normally in New York, and the menu comprises seafood masterpieces from renowned chefs. A substantial raw bar with international flavours is also available. The collection includes digital artwork of fish and sushi.
7- Fan Controlled Football:
Fan Controlled Football was founded by Sohrab Farudi, Patrick Dees, and Grant Cohen. Ray Austin, a former pro football player, also serves as a team commissioner. Fan Controlled Football was inspired by real-life arena football games, according to its designers. The project's NFTs, known as Ballerz, enable the capacity to govern real-life football clubs. Ballerz exists in a variety of shapes and sizes, ranging from bored monkeys to Kingpins.
8- NFT Worlds:
The idea is an NFT game and metaverse in which owners have provable digital land rights. Owners create their metaverse by incorporating Minecraft-like features and functions. The worlds begin with pixelated views of woods, waterfronts, and rolling hills.
9- Axie Infinity:
Sky Mavis, a Vietnam-based corporation, created Axie Infinity. The idea is a metaverse game based on colourful Axie who combat, build, and hunts for wealth. Collectors can also breed their Axies to produce new NFTs.
10- Ape Yacht Club Is Boring:
it was designed by Yuga Labs, a leader in the NFT sector. Huge lists of celebrities have expressed interest in the project, and major music labels have even signed several of the NFTs as metaverse megabands. The NFTs in the series serve as keys to an elite club with an ever-expanding set of perks.
11-Moon Boys:
Another collection is the Moon Boyz collection, which was created by 4 partners: Swan Kenzo, Maitre Fritz, Tesserakt, and Komet. The collection includes 11,111 different, randomly produced 3D NFTs of space characters. Owners of Moon Boyz NFTs have access to an expanding community and activities, both online and in person. The developers plan for the project to take the lead in various areas of the metaverse.
NFT Tokens List
ApeCoin (APE)
Decentraland (MANA)
The Sandbox (SAND)
Theta Network (THETA)
Tezos (XTZ)
Every NFT project is unique, and its value will rise or fall at a variable rate. We have highlighted some of the greatest NFT projects to invest in nft crypto in the right away. However, investors should be cautious while making any NFT investment.
As per the expert's estimation, the value of NFTs will vary according to many supply and demand factors. Many NFTs cost a lot of money, while others are significantly less.
If an NFT appears to be excessively priced, it is most likely because it is a one-of-a-kind piece of digital artwork in high demand. Several factors influence the success or failure of NFT programmes. The most successful projects feature extensive communities and strong transaction volumes. It is also a great idea to look into the project's team to see if they have enough expertise in the nascent crypto market.
Faq
Most NFTs are components of the Ethereum block chain at a high level, while other block chains have developed their own form of NFTs. Ethereum, like bitcoin or dogecoin, is a crypto currency, but its blockchain also takes account of who owns and trades NFTs.