Cryptocurrency exchanges are rapidly growing worldwide and are facing cyber attack risk. It is crucial for investors to consider red flags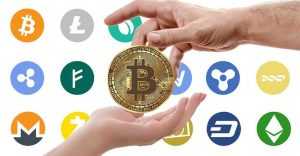 while choosing an exchange for cryptocurrency and it means doing proper homework on security safeguards and fees. Here is some of the best bitcoin exchange
Binance
This is a fast growing exchange, located out of china. It is open to all the countries and has its ICO till date showing tremendous growth. It is now one of the top cryptocurrency exchanges. There are over 140 altcoins that is increasing gradually.
Binance is a centralized exchange that expands its business and offers a decent discount to day traders on using BNB coins. BNB is Binance Coin. The trading fee is 0.1%. The process is simple and Binance offers mobile app. There are aggressive plans such as Binance Angel program and multi-lingual support offering more adoption of platform.
BitMex
This is a crypto exchange receiving high volume created by economists, web developers and high-frequency traders for crypto community. Here Bitcoin and its contracts are traded primarily. Apart from the Bitcoin contracts, there are altcoins namely, Litecoin, Cardano, Ethereum, BitcoinCash and Ripple.
The BitMex registration process is simple that you can register using email ID and their fee is straightforward.
KuCoin
This is also a hassle-free and easy bitcoin trading exchange. It provides unique and popular coins such as KCS, DragonChain and few others. KuCoin also offers mobile app fully functional. KuCoin allows getting started such that you deposit crypto as you wish.
Changelly
This is the easiest ways getting hold of many other cryptocurrencies. Changelly has a track record of offering good products into the crypto-space. The advantage of this exchange is that there is no lengthy verification or some registration process. It supports over 35 cryptocurrencies with fiat pairs such as EUR/USD. This is one of the exchanges that is easy to use and they connect in real time soon to the best cryptocurrency exchanges that you can enjoy the best price.
Changelly charges 0.5% as commission fee and each transaction takes 5 to 30 minutes. Top bitcoin exchange the risk and volatility is minimal and apart from the commission, there is miner's fee paid by user and this is reduced from crypto balance.
Bittrex
This is a cryptocurrency US based exchange providing the option of trading over 190 cryptocurrencies at one time. They are compliant and well-regulated with the current US rules that users need not bother about the funds safety. Large volumes are handled in this exchange taking a small service fee.