Ripple can send a large number of transactions within minimum time limits. It is basically aimed at large organizations and firms. It is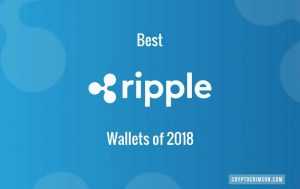 considered secure and only takes a few seconds for any transaction. Ripple is giving the same services as the traditional Visa and MasterCard transactions.
Types of Ripple Wallet:
There are five types of Ripple wallet that can be used to keep the Ripple. These are Hardware, paper wallet, web wallet, mobile wallet or Software wallet and desktop wallet.
Hardware Wallet:
The Best Hardware wallet for Ripple is the Ledger Nano S. It is a versatile and the best hardware wallet in the market. It can not only store Ripple, but Bitcoin, Etherium and DASH also. It is the safest device that can store your crypto currency because it is accessed by a PIN code generated by the user. It connects to the computer through a USB port.
Web wallet:
There are a number of web wallets that can also store crypto currency. These are different web services that allow the user to store Ripple. Exarpy, CoinPayments, Cryptonator and GateHub are some of the examples. The users can have access to the web wallets by signing in to these web wallets. For added security concerns, some of these wallets also give the PIN code and a two-factor authentication to the users.
Paper wallet:
A paper wallet is also a safe method to keep the crypto currency safe. It is an offline way to keep the crypto currency. A private key is generated and is advised to keep that key written on a piece of paper. To get the access of the wallet, the private key is demanded.
Mobile wallet or Software wallet:
There are some mobile apps that also offer to keep the crypto currency. Toast Wallet is the app which is available for iOS as well as for Android devices. Moreover, desktop versions are also available for this app for the ease of the users. The app is easy to use and also offer private keys which is only accessible on the mobile device.
Desktop Wallet:
Rippex is a desktop based wallet for Ripple. It is downloadable and can be operated on Windows, Linux and OSX. Till now, it is not actively functional and have some errors in the code. It also has some private keys to keep the Ripple safe which is kept on the computer. It is safer than the web wallet. The only concern is the malware, if the computer is infected with malware, your currency would be at risk.