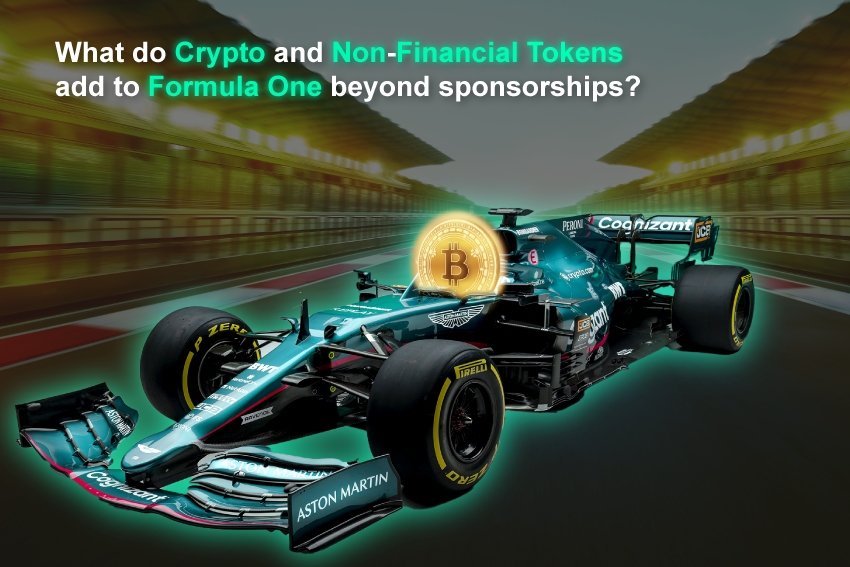 Are crypto businesses sponsoring Formula One for the glamor, or will NFTs show that these relationships have real-world applications?
Decentralization as well as globalization has always been a matter of importance to the crypto currency ecosystem. As a result, it should come as no surprise that a number of crypto currency companies are supporting Formula 1 racing teams in an effort to reach a wider audience.
According to Nielsen Sports, Formula 1 has the potential to reach around one billion fans worldwide this year. F1's popularity is growing, and crypto currency companies are capitalizing on it.
F1 with crypto currency: A marketing match made in heaven
From a marketing standpoint, Mark DiMassimo, founder and creative chief of DiGo, a New York-based marketing business, told Cointelegraph that crypto corporations' interest in Formula 1 makes sense.
"From a sponsorship standpoint, you could argue that F1 is a natural extension for crypto firms because both industries are worldwide, thrilling, and include money," he said.
To DiMassimo's point, the F1 racing company Red Bull Racing recently signed a three-year deal worth $50 million per year with Singapore-based crypto trading platform Bybit. Prior to this, Crypto.com clearly announced $100 million collaboration with Formula 1 for the "Sprint Series" in 2021.
As NFTs gain popularity, F1 sponsorships are growing.
However, while crypto businesses may have been lured to F1 sponsorships originally for marketing reasons, the growth of (NFTs) is opening up new prospects for Formula 1 teams. According to a recent Deloitte Global report, sports NFTs would produce more than $2 billion in transactions in 2022 alone, more than doubling the amount witnessed in 2021.
Fantom announced a sponsorship deal with Brazilian-American Formula One racers Pietro and Enzo Fittipaldi on March 22, 2022. The two drivers would wear Fantom graphics on their respective helmets throughout the season of F1 2022.
The Fittipaldi Brothers will also debut their first NFT series on the Fantom network, in addition to the sponsorship deal. "Both Pietro and Enzo have shown a keen interest in cutting-edge technology.
Due to their involvement in the crypto world, Pietro Fittipaldi and his brother decided to establish an NFT series with Fantom: Fittipaldi added that the NFTs will be designed by the Brazilian artist Rich, who is known for his graffiti artwork.
"These art pieces will subsequently be digitized into one-of-a-kind NFTs that grant access to special F1 championships ", Fittipaldi explained.
In addition to Fantom's latest NFT debut, Terrenus stated that Bybit will be the major marketplace for the Oracle Red Bull Racing team's NFTs. Although Bybit's NFT marketplace only debuted in January 2022, Terrenus feels it has already received a lot of positive feedback from the community.
Formula One community learns about Blockchain technology.
While it's clearly notable that crypto currency companies are supporting F1 racing drivers, some people may assume how these collaborations and NFTs will be received by the general public. This is especially crucial to consider considering the fact that non-crypto natives are still learning about NFTs, which can be a confusing notion.
According to new research from the NFT Club, despite the fact that NFTs have grown in popularity since December 2020, the most often asked question in 2021 was "where to acquire NFTs." This suggests that a sizable portion of the population is still unfamiliar with the NFT industry.
Fittipaldi also feels that because of the utility of NFTs, they will be positively embraced by non-crypto natives. "A lot of people think NFTs are merely for buying digital artwork, but these works also provide you access to exclusive Formula One championships."
With this particular point in mind, Fittipaldi and his brother stated that they intend to create more NFT collections in the future. Furthermore, crypto sponsorships appear to be a hit with F1 team owners.