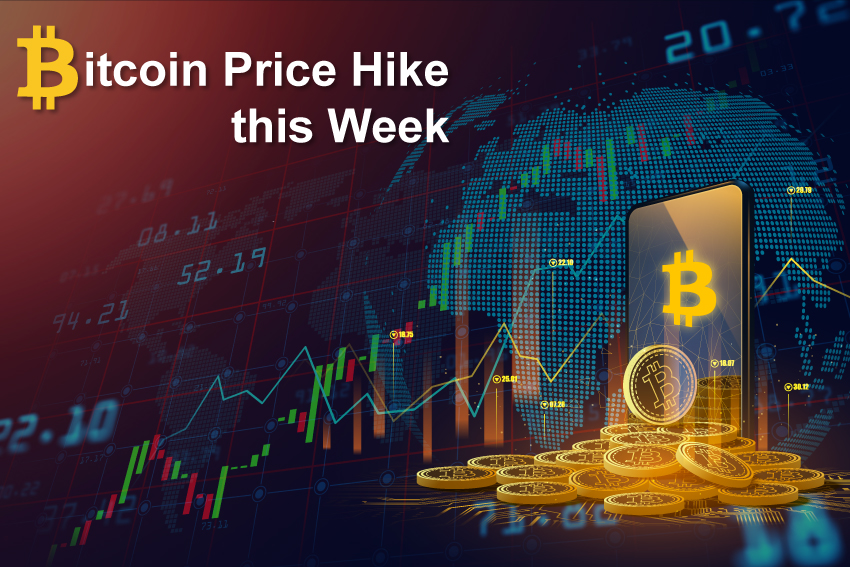 BITCOIN commences on a firmer footing this week to everyone's surprise as macro cues start balancing. After a huge fluctuation in the market BITCOIN managed to jump to all-time weekly high clearing doubts that BITCOIN might hit below $40,000 price.
As the crypto market is quite uncertain, BITCOIN ought to develop resistance to jump above $42,000 something not so easy yet not impossible. Let's peep into the latest updates about BITCOIN Price Hike with Cointelegraph
War is no more a concern for the Stock Market. But Why?
The Stock Market seems to be least concerned about the current Russia-Ukraine War and yes it's definitely true as ongoing geopolitical tension does not seem to grip tightly over the equity markets.
But Chinese equities seem to be showing a desirable impact this week as international stocks have hiked ~$5tn in mkt cap this week due to reasons cited as spur in stimulus in China stock prices, noted by Zschaepitz. All stock which now accounts to $112.4tn, is roughly equivalent to 133% of global GDP.
But this correlation will continue is chiefly a matter of great concern for crypto players. But this correlation paradigm is bound to be broken with a roaring bull market in gold in the advent of rising nominal rates and high global stagflation.
Which Cross will potentially lead?
Bitcoin struggled hard to hit the week high in this month and is still loitering around $41,000, in the month of March. As there is always uncertainty in the crypto world, possible decline in BITCOIN price is suggested by Cointelegraph Market Updates and a kind of so-called "death cross" is expected in near future.
It happens when a shorter-time frame moving average crosses under a longer one — normally what happens 50-period is under the 200-period but when the 20-period is under the 50-period, such a declining cross tends to alert about the upcoming weakness in the market.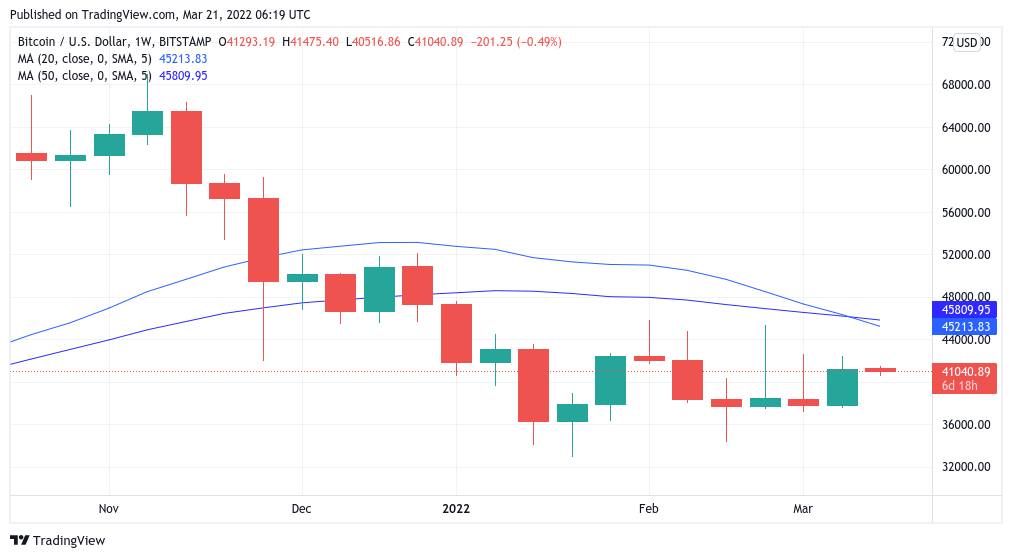 As mentioned by one Twitter account BTC fuel, BITCOIN imitates the kind of structure which was back in 2012 attacking the 100-period moving average on the daily crypto chart. And after falling below the MA's, BITCOIN is now excited at the 100D MA.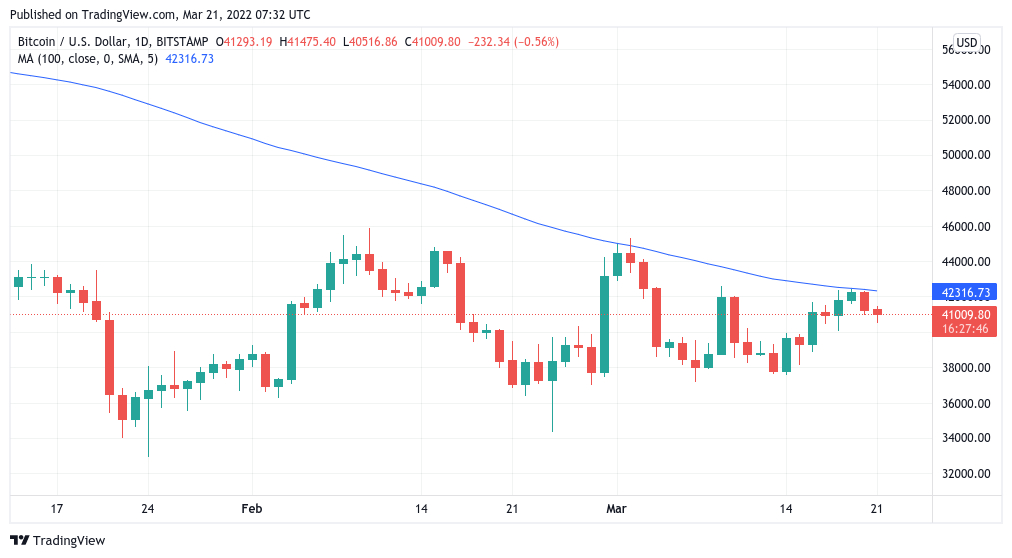 This cozy approach is very much in favor of a market that is still moving slowly with set resistance levels. These ought to be firmly crushed before a genuine trend change is established. It is as per the opinion of crypto analyst Matthew Hyland this weekend, with $42,600 as the first milestone to be chased.
Stop hanging for the Chart Pattern, says crypto analyst
As noted by Cointelegraph, popular analysts argue that Bitcoin has been jumping high not only this year, but all previous years high.
With a price range between $29,000 and $69,000, price action in between is just compact, firmly claimed by many analysts.
As per the block subsidy halving which happens only once every 210,000 blocks, halvings have had a considerable impact on price fluctuation.
"We're likely witnessing the first possible signs of 'The Last Cycle' thesis coming out," stated by noted statistician this week.
Three considerably short bull and bear markets have surfaced since the 2019 bottom already.
Genuinely speaking, calculating BITCOIN against its all-time high may no longer be taken as a genuine step towards depicting market potential.
Not everyone really agrees that cycle-based prices don't exist anymore. But we can definitely expect higher highs and lows to be put in the course of due time, stated by noted Twitter Credible Crypto account.
But why Tether activity gets bulls delighted
As per the latest interaction with U.S. dollar stable coin, their potential trajectory is closely hinting towards the upward side, an apparent indicator of complete interest in the crypto market.
As confirmed by firm Sentiment, last week saw comparatively more active Tether addresses than at any other week of current or previous year.
"As Bitcoin price loiters around $41k, Tether is also indicating great moves may be coming up for crypto," they added to the update.
Speculations leave ahead of extreme fear
Good news is flashing in the crypto market this week.
After hanging with "extreme fear" which lasted mostly in the month of March, the Crypto Fear Index is pumping back to its extreme "fear zone"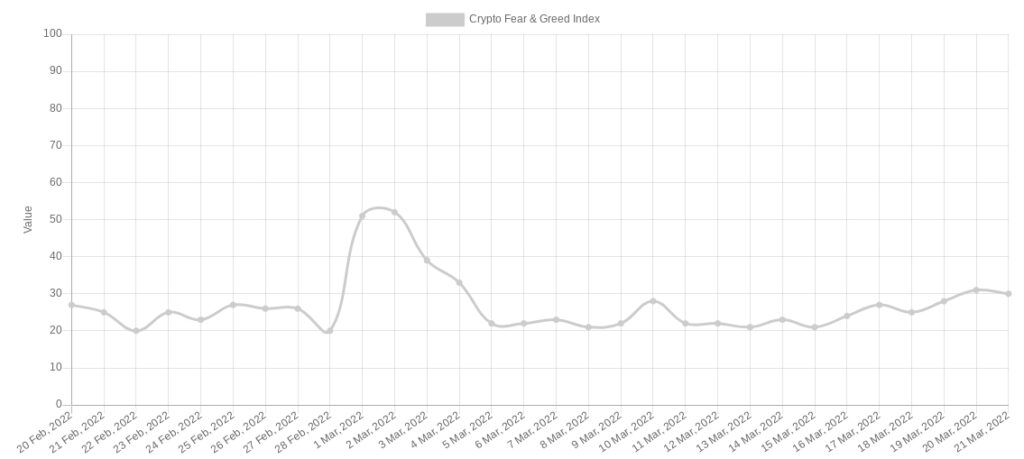 Discussing the latest market composition, Fear Index Newsletter highlighted the ongoing struggle last week between bears and bulls at recent levels and these bears have developed fortresses lying between $40,100 and $42,600.
This breach would potentially clear out the bears entirely and tear down their potent spirit. Though it's not an uncomplicated task, if the bulls plan on regaining their momentum, this would have to be surely done.