Bitcoin traders had their eyes set on different kind of chart during the end of July 2018. This is because on 27th of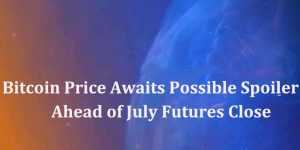 July, the bitcoin futures offered by the derivatives giant CME group were stated to expire. It can be observed from previous data that there is a drop in the value of bitcoin by 7.89 percent five days prior to expiration of the contract. As per data, such an event can trigger a healthy pullback in prices in the world of cryptocurrency.
There may be several other factors that can influence the bitcoin market price as well. A tweet from the CME group triggered an interest amongst the investors pertaining to the bitcoin futures market experiencing a substantial growth. The tweet stated that the bitcoin future offering was up by 58 percent in open interest and 93 percent in volume in Q2. A substantial growth was noted in Q3 with a record volume of contracts equivalent to 64,390 bitcoins.
Although there has been a lot of speculation and encouragement pertaining to investment in bitcoin, many have argued that the futures impact the price in a negative manner. Before the introduction of futures, there were limited options available for traditional investors. However, amidst speculations, the bitcoin price news rebound over the past few weeks. Bitcoin price right now as of 31st July is $7,771.41.
A look into the past trends
If we take a deeper look into the charts, we can find out that the price of bitcoin has always experienced a dip or loss in the five days leading to the expiry on four out of six occasions whenever the futures have expired. Prices have fallen by 20-45 percent on the expiry dates earlier. Bitcoin price prediction it can be noted from the trends that futures impact the price of bitcoin severely. It is not a coincidence that Bitcoin reached its all-time high of $19,891 on 17th of December 2017. This was the day when CME introduced its first bitcoin futures product. The price has declined steadily ever since. If we take a look at the current figure, we will note 58 percent depreciation from the highest value of bitcoin ever.
No matter what it is quite interesting to note how futures impact the price of bitcoin. You may never know when cryptocurrency may be back experiencing all its bullish glory with any modification in the futures market.